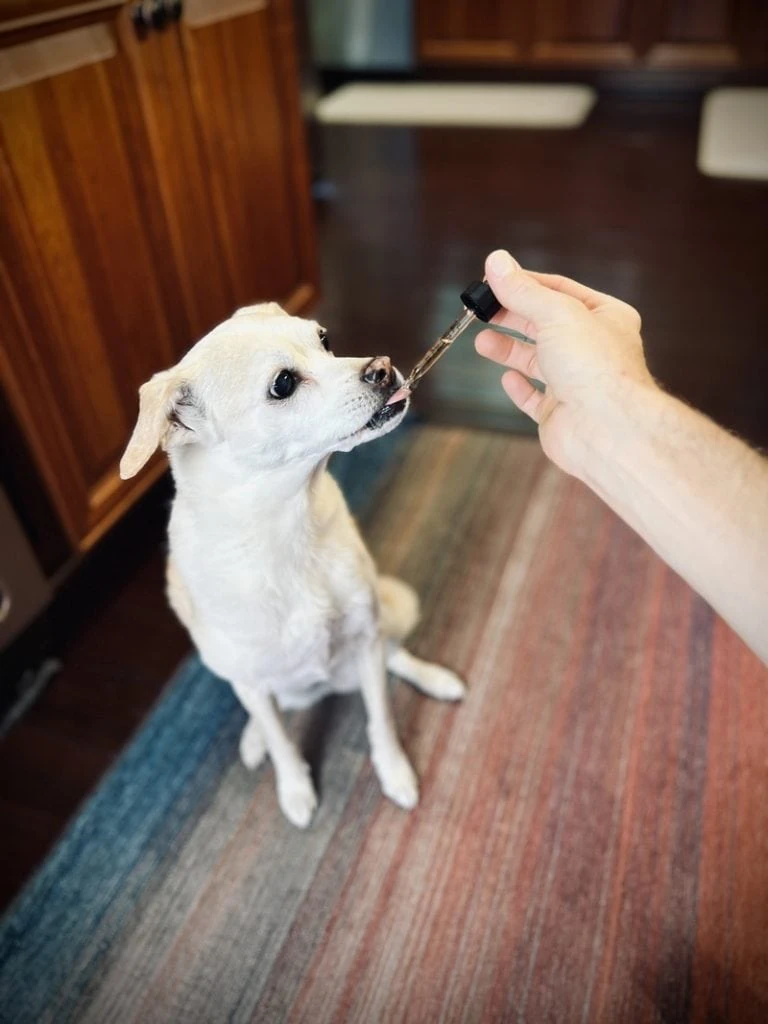 CBD Dosage for Dogs and Cats
CBD is a popular dietary supplement for pets and humans but proper CBD dosage is still unclear.  Its effects have been studied on people and animals to help improve conditions ranging from pain and inflammation to anxiety and even seizure disorders. There are more CBD products for pets available to the general public and veterinarians are still on the fence so understanding dosage and administration options is challenging.  Because of this, we aim to help you gain more clarity when considering CBD dosage for dogs and cats. 
What is CBD? 
CBD affects many regions of the brain and systemic nervous system. It is not a simple molecule as it is usually a combination of other minor cannabinoids as well as terpenes and flavonoids extracted from hemp or cannabis plants. This variation in formulas makes it challenging to dose as there is no standardization in CBD products for pets. While CBD is generally given to calm pets or to help with pain of some sort, it has the potential to do much more.  On rare occasions, CBD can even have some unwanted side effects that pet parents should be aware of. 
What Does CBD Do then?
Every animal with a spinal cord is born with an endocannabinoid system. This helps communicate with almost every other part of the body. CBD is a plant based cannabinoid that indirectly binds with what are called CB1 and CB2 receptors. These receptors are found in every cell of the body, offering an array of effects. 
For instance, CBD has been shown to affect the hypothalamus which is responsible for  neuroendocrine function, maintaining homeostasis within the body. Homeostasis involves sleep, appetite, memory (forgetting), neuroplasticity, neuroprotective processes, and the immune system. 
CBD affects the hippocampus which is where new neurons are created. This may be helpful for increasing plasticity in the nervous system, helping with PTSD and chronic stress. 
CBD interacts with the pineal gland which regulates sleep. This is likely why many people and pets take CBD to get a better night's rest. 
CBD helps in the reduction of pain signaling and reduce Cytokines, affecting the body's inflammatory processes.  
CBD also affects a lesser known part of the brain called the hypocretin system.  This system is involved in opposing effects of sleep and anxiety. The hypocretin system has lots of crossover between the endocannabinoid system.  This may be the reason some people and pets have an opposite reaction to CBD products, causing them to feel uncomfortable and edgy. This is rare but possible.  These are just a few of the processes CBD can affect.  
About CBD Dosage for Dogs and Cats
Now that you have some perspective on what CBD can do, let's talk about considerations for proper dosage and administration of CBD for dogs and cats. 
Studies on CBD Dosage for Dogs and Cats
First we can look to scientific studies and what doses they used. 
More often than not studies involving CBD for pets use a much higher dosage than what most CBD products recommend.  This tells us that higher dosages are generally better safe as most studies don't highlight many negative side effects. CBD is considered well tolerated by dogs and cats.  These dosages are often anywhere from 1.5 – 2.5 mg per kilogram of body weight. 
For reference 1 mg per kilogram of CBD for a 50lb dog is 23mg of CBD. 
Most CBD products for pets recommend starting out at 0.5-1 mg per lb of body weight and working up slowly to a dose that is therapeutic for your dog or cat.  In this case a 50 lb dog would get only 5mg of CBD at the higher starting dose. This is advisable in most cases as many pets can see results from a low dosage and it will help pet parents find the best dose without unwanted side effects as well as being economical. 
A CBD dosage calculator may help you find the starting dose and adjust up from there.
Different Dosing for Different Problems 
Dosage of Broad and Full Spectrum CBD oils may vary depending on the circumstances and are subjective to your pet. While we recommend starting at a dosage based on weight, there are other important factors that will affect how your pet responds to CBD in their diet. 
Some considerations are:
Age 

Metabolism

Health / or illness

Disease process 

Endocannabinoid system function
Pets who are older, have other active illnesses or disease may need more or less of a given CBD product.  
After you have started to give your dog or cat CBD and they are responding favorably, and without any negative side effects, (a little sleepiness is ok initially) you can start to titrate up the dosage to your pet's needs. 
The CBD dosage for dogs with anxiety is about 8-10mg.  If you don't see results in 30 minutes, another 10mg may be given. 
For general anxiety, it is best to give on a regular basis for several weeks. Adjusting the dose up after each week.  
A typical CBD dosage for dogs with arthritis is 10-20mg at a time or daily.  If your dog or cat is still in pain, wait 30 minutes and give another 10mg.                                                                                      It is recommended to split the dosage into 2-3 administrations. 
A typical CBD dosage for dogs with cancer or seizures is higher at 30-50mg per dose per day. It is recommended to split dosages up into 2-3 per day for best results. 
Cats vs. Dogs?
Laboratory studies have shown that cats metabolize CBD faster than dogs so they should be given a little more per than dogs by weight. 
A Word on Cats 
Cats can be particularly sensitive to putting medicine or supplements in their mouths so in the event you can't put on the food, you may drop CBD oil on a cat's paw and have the lick/groom it off.  You can also rub the oil into the inside of your cat's ear. This method is less effective than oral ingestion but it may be the least stressful on your cat.  This can also work with dogs as needed. Just expect to use more as it is less bioavailable when applied to the skin.
Metabolism of Cannabinoids.  
THC and CBD metabolize at different rates and while a little THC will generally not hurt your pet, the duration of effect may change depending on formula/brand.  This is why changing products often has different effects. Some people believe a little THC is helpful and others do not. Pets in severe pain may be a consideration for low levels of THC but be careful to look for lab tests and introduce the product as if your pet was new to it. It should be noted that most veterinarians advise against the use of THC products because of its psychoactive properties.  
CBD and Other Medications
CBD has been tested and is generally considered safe to use with most medications but there are a few considerations you may want to make.  In higher doses, CBD can affect the metabolism of other traditional medicines. CBD has been shown in some cases to affect an enzyme in the P450 class which metabolizes about 60% of the pharmaceuticals prescribed. These include medicines like antidepressants, heart medication, blood thinners, and many more.
Most pets do not seem to have issues when mixing these at low doses but it may be worth mentioning this to your veterinarian if you are unsure.  Adding CBD to your pet's diet may allow  you to reduce the need for some supplements and prescription medicatons.  Please consult a veterinarian to assist with this. Always start out at a low dose and monitor your pet closely for any changes. For instance, CBD may increase the effects of one medicine like heart medications and reduce the effectiveness of others such as an antidepressant.  This is true for people as well.
Testing
There are hundreds of CBD brands available to choose from and there is little oversight on testing for potency and purity. This leads to a variation of effects as one bottle might have less CBD or more than stated on the bottle. Always look for a company that offers lab tests or COA's (certificates of analysis) to show what you're getting. Knowing your product will give you the best chance at finding the best dosage of CBD for your pet. 
Giving CBD With or Without Food
CBD is lipophilic which means it binds to fats best. Adding CBD to your dog's food, especially a fattier meal should boost absorption up to 3x per recent scientific studies. So if you change how you administer CBD, you may find it has a stronger or weaker effect.  You can also apply the oil directly to your pets gums on the side of their cheek and get some extra absorption from the mucosal lining. Giving a meal or fatty snack after will help additionally. 
Questions on CBD Products or Dosages? 
For those who still aren't sure about which products or what dosages you should consider for your pet, we are here daily to help you with your questions and concerns. We are happy to give advice based on our experience with consumer reports and scientific research but if possible it is always good to have a discussion with your veterinarian. In California, it is safe for your vet to talk about CBD and the penalties for recommending CBD products have been removed with the passage of Assembly Bill 1885.