The Best CBD Treats For Dogs & Cats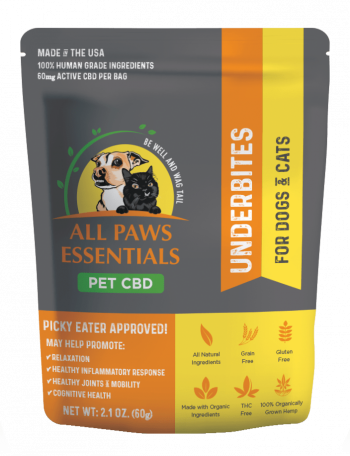 "Underbites" Pet CBD treats are the first treat formulated to win the hearts of both dogs and cats. Their unique tearable design allows them to fit most enrichment toys for more mental stimulation. "Underbites" can also be torn into small squares and given as training rewards.
Made with Love in Small Batches
Made With Organic Ingredients
What Makes our CBD Treats for Dogs and Cats Different?
100% Human Grade Ingredients
Underbites are the only CBD treats for dogs and cats with certified human-grade ingredients, including USDA inspected Turkey, Organic bananas, Organic Peanut Butter, Organic Raw Honey, and a dash of Ceylon Cinnamon. We add our human grade 3rd party lab tested broad spectrum CBD extract to the mix, and viola! The highest quality, best-tasting CBD dog treats are born.
Underbites are the first CBD treats to be formulated to win the hearts of both picky dogs and cats. They have a unique flavor and scent profile from our carefully selected ingredients with just enough moisture and fat content to keep your pets begging for more. We rigorously tested our treats with hundreds of dogs and cats to make sure they stood out above the rest.
Underbites are more than just a yummy treat. Their unique shape and breakable design allow them to fit and stay in most interactive treat toys, dispensers, and puzzles for focused interaction and enrichment. They can be easily torn into small training rewards as well. Try putting one in your back pocket on your next dog walk and using it to reward better behavior. It works!
Why Choose Underbites CBD Treats for Dogs and Cats?
CBD Oil has been used to help with a range of conditions like,
Fresh Human Grade Ingredients
Active Ingredients:
Approx. 3mg Broad Spectrum CBD per treat.
Other Ingredients:
USDA Turkey, Organic Bananas, Organic Peanut Butter, Organic Raw Honey, Organic MCT oil, Sea Salt, Hemp Extract, Vitamin C (Natural Preservative), Organic Ceylon Cinnamon, Mixed Tocopherols (Vitamin E) 
If you're interested in trying the best CBD treats for dogs and cats, you've come to the right place! The team at All Paws Essentials is dedicated to providing the highest quality CBD treats for your furry friends.  We formulate all our CBD products with human-grade ingredients you would eat yourself. Made in small batches at low temperatures, these are something special you will enjoy giving your pets. 
Frequently Asked Questions
Are CBD Dog Treats safe for my Pet?
Yes, CBD is safe for dogs to ingest, but it's important to ensure the quality of the CBD as well. High-quality, human-grade CBD is best to ensure that you'll see a real difference in your dog's symptoms of anxiety or stress. 
While there is always ongoing research to learn more about how CBD interacts with your pup's system, CBD is safe for most dogs to ingest in treat form. It comes with a myriad of health benefits, and the list keeps growing!
Can I Give My Dog CBD Every Day?
Yes, daily and even twice daily treating with CBD is the best way to get the most out of the beneficial cannabinoids in Underbites CBD treats. The half-life of CBD is about 4.2 hours so dosing every 6-8 hours is optimal for dogs that are receiving the treatment in place of pain medication or other ongoing medications, which will help regulate their endocannabinoid system.
Similarly, daily dosing of CBD for anxiety in dogs and cats is also recommended. However, some pet parents give CBD to their pets as needed for situations like car rides or visits to the groomer. 
How Long Does It Take for CBD Dog Treats to Work?
CBD Treats digest a little slower than CBD oils and are affected by what else your pet has recently eaten so don't be surprised if you don't see results immediately. The time frame depends on the potency of the treat, the fat content in the treat  (CBD is fat-soluble), and the size of your pet. 
After ingestion, it may take your pet anywhere from 15 to 30 minutes to start feeling the effects of the treat. If you know there will be an event that triggers their stress or anxiety, it is easy to plan ahead with a few CBD treats to help calm their nerves.
Chronic inflammatory issues and other serious conditions may take daily dosing for days or weeks as it can take time to re-adjust your pet's endocannabinoid system. Higher doses are recommended for chronic conditions and can be managed with our CBD oils and treats combined. 
How Do CBD Treats Work on Dogs?
CBD treats for dogs might seem like a recent trend, but researchers have been working on these products for years to discover how exactly it works and the benefits it might have for your pet.
This research has found that pet-safe CBD products help pets with anxiety and stress by interacting with the endocannabinoid receptors already present in your pup's brain, connecting with their nervous system.
The result?
Your pup is suddenly calmer throughout their whole body – their anxiety is calmed, digestive upsets are eased, and any pain or discomfort from arthritis disappears.
As a bonus, the best CBD dog treats like Underbites from All Paws Essentials are a great way to get your pup excited for play. These treats are the perfect size for adding to enrichment toys or even for regular training.
Reasons Your Puppy Might Need CBD Products
In light of the ever-growing list of beneficial effects CBD has in humans, you might wonder whether it's a good addition to your pup's diet.
Fortunately, scientists seem to agree that CBD treats for dogs can help your pup stay calm, reduce harmful anxiety and ease body pains. There is also evidence that it can even help reduce nausea, improve sleep, and reduce itchiness from allergies.
Yes, it turns out your dog can similarly benefit from CBD in the same way humans can, so long as the ingredients are high-quality and without intoxicating levels of THC.
CHOOSE ALL PAWS ESSENTIALS - THE BEST CBD DOG TREATS
Your dog deserves treats made from healthy, whole ingredients and not the usual starchy fillers and low-quality leftovers that most treat brands use. With CBD dog treats from All Paws Essentials, this type of quality is the standard. 
With human-grade ingredients like USDA turkey, Organic Peanut butter, Organic green bananas, raw honey, and Organic Ceylon cinnamon, Underbites set themselves apart from the competition. Of course, Underbites aren't complete without All Paws Essential's premium human-grade CBD extract. Third-party lab tested to ensure the extract is both high-quality and safe. This extract provides the powerful benefits of broad-spectrum CBD to the already-delicious formula. 
If you're looking for a remedy for your pet's anxiety and stress or just looking to give them a little something special, All Paws Essentials' Underbites are the top choice for many pet parents across the world. We promise your pet will love them or your money back.