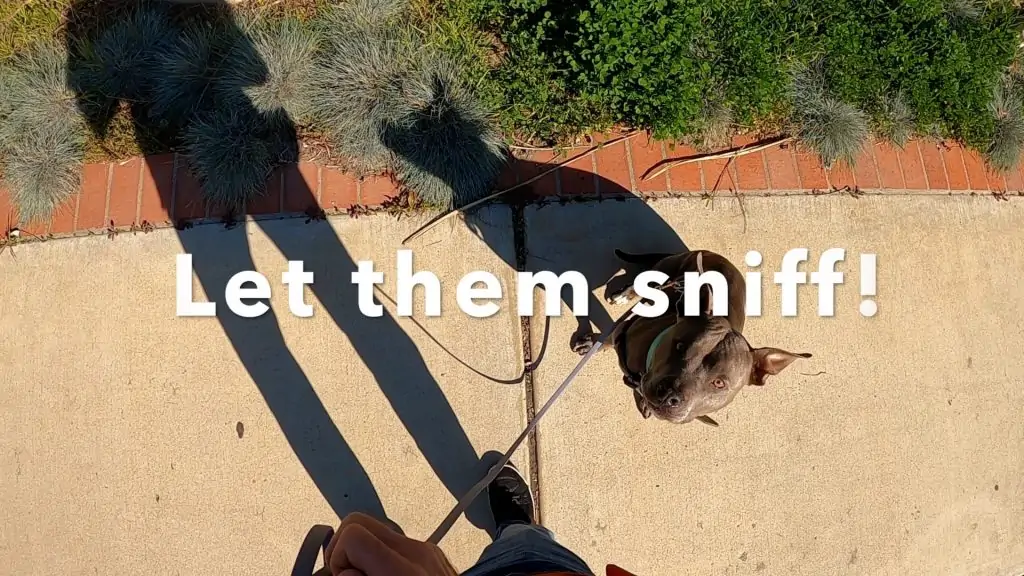 A lesson on Loose Leash Walking
Walking a dog pleasantly down your neighborhood street or around a park can be one of the most rewarding experiences you share with your dog.  However it is often the case that your dog wants something more out of his walk and in turn makes the walk less pleasant by pulling you to every smell, ignoring your pleas for attention and peeing on everything in sight.  In other words, our expectations and our dogs needs are usually drastically different in this situation, leaving a sense of conflict when you depart for a casual walk after work with your pet. I will explain why this is so common, how you are likely making it worse, offer easy ways to change your dog's walking behavior with video footage of dogs in action, all in this new lesson on loose leash walking. 
Why your dog pulls
Your human walk and your dog's walk are generally two different experiences and like all behaviors our past reinforcement history comes into play in every new walking opportunity.
The first consideration when addressing why your dog is pulling is to find out what he is pulling towards.  As I mentioned above, your walk and your dogs walk have stark differences.  You likely want to take your dog on a timed journey to a specific destination (destination walk) with little reward for ignoring all the desires your pet not only wants but needs.  Most dogs don't get enough mental stimulation as it is and when they finally get outside it's a free for all to get as much information as possible.  If you don'y already know, your dogs sniffer is ridiculously sensitive and powerful. They can process scents 12 separate odors at the same time from vast distances, bi-directionally, and while continuously sniffing like a didgeridoo player.  So if you are like most of my clients who have an agenda which is bypassing all the yummy stinky smells along the way, you're essentially walking your dog through Disneyland and not letting him look at the new adventures and rides around them
Next, your dog's previous reinforcement history also comes into play and if you have been following your dogs as he pulls , you are teaching him that leash tension is customary for forward progress and to keep trying because it works enough of the time.  If you take one thing from this lesson on loose leash walking, it should be the way to stop your dog from pulling is to stop following when the leash it tight.  If you don't change your behavior here, your dog will always keep pulling because it is working.
Allow more sniffing for loose leash walking
Smelling is literally everything to a dog.  It is equivalent to reading a book, doing yoga, going shopping or dining at a buffet.  It is how they see and learn about the weird human world they have to function in. Active sniffing in dogs actually lowers pulse rates and allows your dog to unwind much faster than using exercise alone. The more we ignore these needs the more they will try to meet their needs by pulling.  In a recent scientific study, dogs given the option of a long leash smelled 280% more than traditionally leashed dogs and consequently had drastically lower pulse rates.   A lower pulse rate leads to a calmer dog.
Tips and Tricks to be Successful loose leash walking
Ditch your short 4-6 ft leash and opt for a 10-15 foot leash shown here.
Get a treat pouch and lots of soft, moist, meat based treats that your dog loves.
Get rid of any tools that are corrective like pinch collars, choke chains, etc.  Opt for a comfortable harness like this Freedom Harness.
Forget about going anywhere specific and don't worry about exercise on the walk. That can come later. We are going on a sniffy walk which is way more fun for most dogs.
Let your dog sniff as much as they want and pee on what ever they want as long as it doesn't upset anyone.
 Teach a check-in behavior (explained later)
Be present and patient (leave your cell phone, kids, and other dogs at home for now) This is your dogs walk and no one else's.
Training a check-in behavior
By training a check-in behavior you will have taught your dog that looking and checking in with you on there walks gets them for forward progress.  It is the opposite of a dog that pulls to get ahead to the next smell.  Let's call these glances spontaneous gifts of attention.  They are spontaneous because you aren't going to be asking for or commanding they look at you.  Your job as a teacher/trainer is to capture any glances and attention to you by rewarding them with delicious treats right on time, every time.  This check in behavior will be a new replacement behavior that allows your pet more opportunity to walk and smell.
Start training inside your door
Training inside allows you to train without the distractions of the outdoors and makes learning a new check in behavior much easier.  Start by having your dog on the long leash with treats on your hip while still inside your door. The first time your dogs looks up to see why the door isn't opening, say YES, give him 3 treats to his mouth.  3 treats is important as it will condition your dog to expect a series of treats vs. a single treat they can snatch and forget about.  This will take some time to condition but it is worth it.
If your dog wont stop looking at you then toss a treat to the ground when they look at you.  This will give you a chance to reinforce their looking to you again after they eat the treat off the floor. Repeat this 10-15 times or until the behavior seems fluid, giving three treats for looking at you then throwing one on the ground after to resent their gaze.
Going outside (Finally)
The next lesson on loose leash walking is to open the door and see what your dog does.  They may walk out or stay right there next to you. If they walk out the door,  you will let the 15 foot leash drag behind them and wait for them to look back to see why you aren't coming along.  Your dog may take two steps out or 10 but your job is to wait for them to look back at you and toss more yummy treats by your feet.  When your dog comes back to eat them offer them some more treats from your hand and see what they do.  If  they walk outside don't follow. If they look up say YES and offer more treats. Repeat this until your dog waits for you to say 'OK' or 'LETS GO' and walk outside just past the door.  Continue to feed them for more attention now that you're outside. Let them smell as much as they want within the 15 feet leash.  This may be 2 minutes or 20 depending on what smells are nearby and what your dog is interested in.  Reward any glances of attention and send them right back to sniffing until they are satisfied.  Walk them another 10-15 feet when they are ready. Rinse and repeat.  If you only go to the next house over that is ok. The next walk will be better.
Chase the food game
As highlighted in the video below, you will see that often I toss the treats in front my dog while we're training. This serves to keep the dog focused more on the space in front of them.  Most dogs enjoy this trick which tires them out more by finding the treats and allowing them to look back to earn more.
Bonus Behavior
Teaching a check-in behavior will not only reduce the overall pulling and lack of attention on your walks but it also teaches a broader concept of how to 'ask' for something.  You may notice your dog glancing at you much more when they want something when they understand the value themselves.  Make sure you reinforce future looks towards you so that this behavior becomes more and more likely when your pets seems something they want in other environments.
Practice makes Perfect
I want to emphasize that walking in harmony on a loose leash takes lots of practice for both you and your dog. It is not a natural behavior but a series of several different learned behaviors. It may seem counter-intuitive to relax the leash and it may be boring at first not walking as much and allowing more sniffing.  However, the reality is your dog will be much more relaxed after he gets all his sniffing out of the way and you likely won't have to walk as far and as fast. Initially your dog will still want to walk ahead to explore but the intensity will diminish over time. You will have more conversations on your walks (check ins) and your dog will be more responsive by default. I hope you find this lesson on loose leash walking informative. I have taught this behavior in many ways but this so far has been the most successful.  For more clarification, please watch the attached video to see what the process looks like on my end and don't hesitate to reach out to me for more guidance and help.
click here for the full video and demonstration of how to do this.
Be well and wag tail,
Bryndon Golya
OCcaninecoaching.com
Allpawsessentials.com