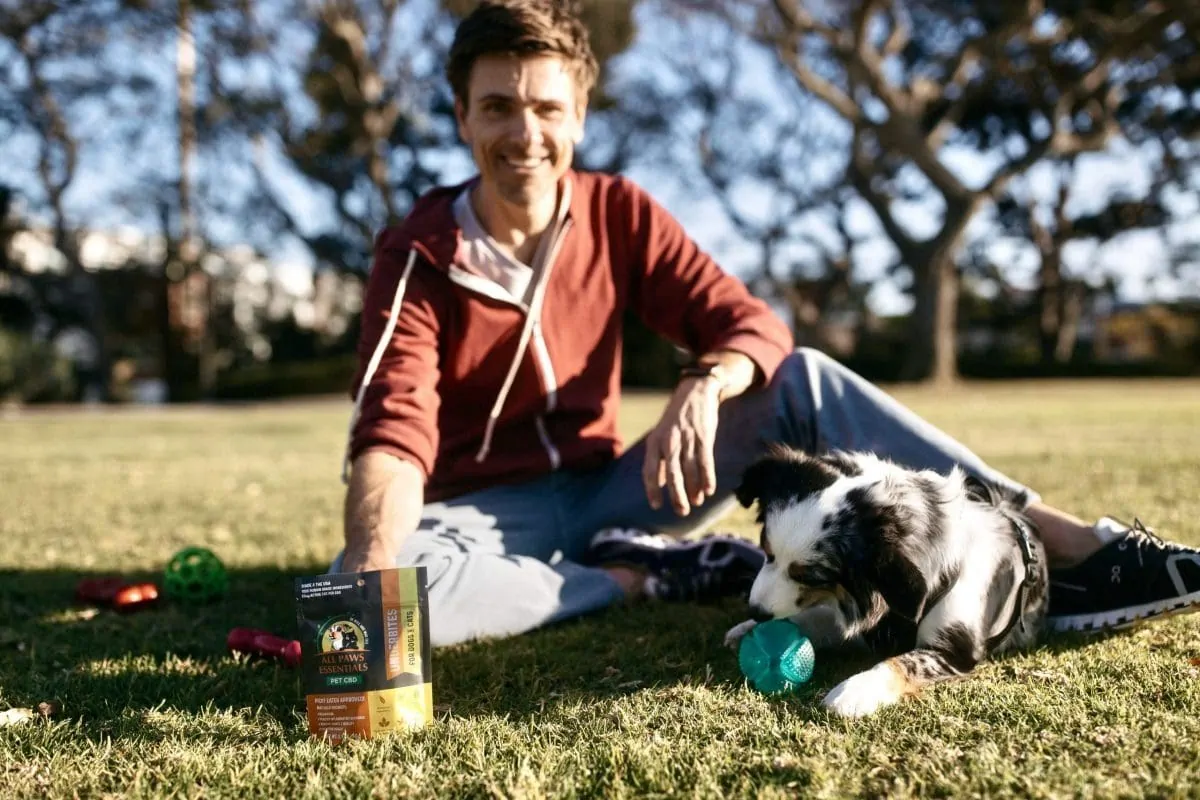 What are the Best CBD Dog Treats
CBD (cannabidiol) is a well studied natural compound found mostly in hemp plants. Over the past 5 years we have seen a huge influx of pet parents adopting a positive opinion on CBD products for dogs and cats. While CBD oils for dogs are still very popular, CBD treats are gaining popularity. 
With so many types of CBD dog treats available, pet parents undoubtedly must ask themselves, "what are the best CBD dog treats? Which are the best CBD dog treats for anxiety? We will discuss this and answer the next question, "where do I buy CBD dog treats near me? 
Why CBD Dog Treats  
There are many reasons to consider giving your dog CBD infused treats. CBD from hemp is safe and effective for treating various pet health conditions. 
CBD dog treats for anxiety and arthritis are widely sought after by pet owners looking for relief from these difficult conditions. Pet CBD products are now recommended by veterinarians and behavior consultants as a safe and effective way to manage these conditions.Even dogs with seizure disorders are finding relief from regular use of CBD dog treats. 
CBD Dog Treats for Anxiety
Canine anxiety has a wide spectrum of severity. It can be very mild to completely overwhelming.  It can lower the pets quality of life and lead to other illnesses and disorders including aggression, digestive issues, skin issues and overall poor health.  An anxious dog typically has high levels of cortisol and adrenaline and if chronic can even shorten their lifespan. While there are many behavioral solutions to managing dogs with anxiety. CBD dog treats can help with anxiety by affecting the same pathways in the brain as traditional antidepressants and anxiety medications.
For those of you trying to train your dog, you may find it helpful to know that learning is limited if your dog is stressed, anxious, or fearful. The brain just won't allow it. 
CBD can help keep your dog calm, which will likely lead to more successful training.  This is one reason I founded All Paws Essentials.
I was so impressed with the responses from my clients who gave CBD to their dogs when they were stressed that I started my own business.  All Paws Essentials Pet CBD products are  available locally in Orange County California and across the country by mail. 
CBD Dog treats for Pain
Pets often suffer from pain and inflammation, just as humans do. And like human medications for anxiety, the medicines used to treat these conditions in animals can have negative side effects.
Pets experience pain more than we know. Most pet owners don't have the understanding to effectively diagnose pain. It even goes undiagnosed from veterinarians. It is one of the most common reasons for reactivity, aggression and even anxiety.  Pain comes from a variety of sources over your pets lifetime. 
Collars, leashes and harnesses can put pressure on your dog's neck and body, which can cause injury over time. Dogs who jump on and off of furniture tend to end up with some type of inflammatory issue in their joints and even their spine like my dog did.  Dogs fed inappropriate diets too long can have digestive upset and that can really sour their moods. 
Older pets, active pets and certain breeds are likely to have more joint pain in the form of arthritis.  CBD dog treats for joint pain is a common query on google and it is one of the most beneficial reasons to incorporate CBD into your pets diet. The university of Cornell has a landmark study which supports this claim. 
Hot spots on dogs are pretty common too. Dogs with skin infections may become grumpy due to pain and may not get to play as much while being treated. CBD dog treats can be used to relieve pain and inflammation, without the negative side effects of traditional medications.
What are the Best CBD Treats for Dogs?
When tasked with creating the best CBD treats for dogs, I put a lot of thought into what dogs want the most.  A dog's nose is their primary sensory organ. They assess everything with their noses first. If it doesn't pass the smell test then it's not going in their mouths.  CBD treats should be easy to give. They are useless if your dog wont eat them.  The best CBD dog treats are ones that all dogs will eat.  Even small, sick and scared pets. 
Ingredients Matter
As mentioned before, dogs like to smell things first. Dogs like stinky things and don't usually mind mixing flavors together like a Thanksgiving dinner. They like the smell of meat and fat. This is not debatable.  When crafting a specialty treat for all dogs, including small dogs with dental issues and digestive problems we started with quality human grade  organic ingredients. 
USDA Turkey was our first choice as a main ingredient. Lean ground turkey has a high protein content and a relatively low fat content compared to beef or pork.  Turkey farming is also less problematic for the environment than livestock.   The next several ingredients are ones that most of the dogs I know already loved. 
Organic Peanut Butter

Organic Raw Honey, 

Organic Banana 

Cinnamon (Ceylon) 

MCT Coconut Oil 
Peanut butter is half protein and half fat making up for the lean turkey.  It also has a host of beneficial vitamins and minerals like B6, B7, magnesium, manganese, biotin and fatty acids. 
Raw honey is sweet, full of phytonutrients, antioxidants and is easier on blood sugar levels than sugar.   
Organic bananas are full of potassium, fiber, vitamin B6 and C. They have a sweet smell that dogs love.  They also help regulate blood sugar and can improve immunity and brain function. 
Ceylon cinnamon is perfect for driving your dog's nose as it adds a level of complexity to the scent profile. It is also shown to have cancer fighting antioxidants, maintains healthy blood sugar levels and can improve cognitive function in older age. 
MCT coconut oil is what our high potency tinctures already have in them so this was added by default. 
MCT oil has a long list of benefits for dogs including improved heart and brain function as well as reducing seizures in dogs.  
Because the treats contain turkey, peanut butter and MCT oil, which are all high in fat, your dog will be able to absorb more of the CBD.
Additionally, we air dry these treats to keep them semi moist and easy to tear into small pieces while retaining nutrient integrity, flavor and smell.  This helps with dosing and those dogs with small mouths or few teeth. 
With that formula in mind we infused Broad Spectrum CBD and thoroughly tested it for palatability and potency. What we found was amazing. Even dogs who are picky eaters and in their last days will eat these special CBD infused treats. This was actually the case for my very first dog who passed from cancer a few years back.  These CBD infused dog treats helped alleviate his cancer symptoms enough to keep him around a little bit longer. 
Personal Anecdote:  
During my actual behavior consultations, I found dogs preferred these new CBD treats. In fact, dogs were ravenously digging into my backpack and briefcase to find more of these even when I was holding other treats in my hand.  This was what I wanted when I was trying to create the best CBD dog treat.  To date, very few dogs have turned them down unless they are so nervous that they won't take any food at the time. Even cats like our flavorful CBD treats. 
Frequently Asked Questions: 
When will I start to see effects?
All Paws Essentials CBD dog treats start to work within 15-45 minutes.  The higher fat content in our treats allows for high bioavailability. 
How long do CBD dog treats last? 
CBD has a half life of just over 4 hours so optimal dosing is every 6-8 hours. 
How many CBD dog treats should I give? 
'Underbites' CBD treats for dogs are typically recommended for small to medium sized dogs under 60 pounds. Some pets are more sensitive to cannabinoids and only need a low dose while some may require more. Generally 1-2 treats is all you would need for a 30lb dog at a time. There is no unsafe amount of our 'Underbites" treats so how many CBD dog treats to give depends on your pet and what they need. 
Where to buy CBD Dog treats near me? 
To find quality CBD dog treats, simply search 'CBD dog treats near me'. However, depending on your location, there may not be a local source.
 Amazon is often a first choice for many folks, but unfortunately almost all of the products listed there have 0% CBD in the ingredients. They may have hemp seed oil or dried hemp but those are not sources of CBD.  Quality CBD products come from the cannabinoid rich hemp flowers.  Hemp oil comes from the seeds and stalks and because Amazon won't allow the use of the word CBD oil, manufacturers hide behind the term hemp, hemp oil or hemp seed oil which legally do have anything to do with CBD, misleading customers. 
If you aren't in the Southern California area and would like to try these delicious CBD dog treats for anxiety, pain, inflammatory issues or anything else, a simple click on our web page will suffice. 
You can find all our popular lab tested, organic CBD products including 'Underbites' CBD treats for dogs and cats there. We offer free shipping over $40 and even offer expedited shipping for those with immediate needs. 
If you have any questions or comments please feel free to reach out to us. We are here to help. 
Bryndon Golya
All Paws Essentials
"Be Well and Wag Tail" 
info@allpawsessentials.com