How to Treat Hotspots on Dogs
Hot Spots are common in dogs and can cause great grief for both the dogs and their owners.  Undoubtedly, if your dog has had a hotspot, you may have wondered what your treatment options are. Maybe you aren't even sure what a hotspot is. In this article we will show you our favorite hotspot spray and a comprehensive list of how to treat hot spots on dogs. 
What is a hot spot on a dog? 
Hot spots on dogs are red, often infected lesions on your dog's skin which ooze puss.  These often start out as a minor scratch or cut, or from some type of allergy. Regardless, the only way for your dog to handle the discomfort is to scratch or bite at it.  This behavior further aggravates the small wound and quickly turns it into a red often bloody spot. Soon this gets infected by the bacteria on your dogs skin and mouth, exacerbating the issue.  These are open wounds that hurt and itch and can easily turn a happy dog into a grumpy dog sensitive to petting and play. 
What Causes Hot Spots on Dogs?
Hot spots are fairly common and as you will see, can appear for a variety of reasons. 
These include: 
Allergies

Scrapes and cuts

Flea bites 

Fur with trapped moisture in it

Ear infections

Anal sac impaction

Parasites 

Contact irritants

Untreated Anxiety
Essentially anything that may cause your dog to excessively scratch on spot for too long can cause a hotspot. Moist conditions are the worst for hotspots and it is advised to thoroughly dry your dogs after bathing and after playing in the water to avoid them.  
This is why hotspots are also called Acute Moist Dermatitis. These wounds can easily become infected and cause your dog to bite, lick and chew at the sore causing further irritation and inflammation. Sometimes these are obvious and other times they can be hidden under their fur.  The sooner you find and address them the faster the recovery. 
What do Hot Spots on Dogs Look Like? 
Hot spots look like red sores on a dog's fur.  A new hot spot can look just like a pink or red sore and can quickly become bloody and even pussy as the dog licks and scratches it. The bacteria from their nails and mouth start the infection and it can quickly grow into a festering wound requiring veterinary care.  These can be as small as a centimeter or up to several inches in diameter.
How to treat hot spots on dogs 
Now that you understand what a hot spot is on a dog, you can fully appreciate our recommendations on how to treat hot spots on dogs.  Each of these is as important as the next and without proper treatment and management a hot spot can quickly get out of control making your dog even more miserable. 
1. Clean the area around the hotspot.
You want to clean the hotspot with warm water and mild soap to get rid of any contaminants and bacteria already in the wound. Make sure you dry your dog completely after to avoid the process starting again. Bacteria love a warm wet environment so make sure to get your dog as dry as possible.  Sometimes it is advised to trim or shave the hair around the area to allow it to dry more effectively. I do not recommend hydrogen peroxide topically as it kills as many healthy skin cells as it does bacteria and dirt, slowing the healing process. 
2. Manage access to the area. 
This is actually the most important piece of the puzzle. Regardless of what product you use to treat the hotspot, if you can't keep your dog from licking, chewing, and reinfecting the wound you are wasting your time and you will likely end up with an even larger problem like a more serious skin infection.  
Elizabethian cones
There are traditional hard plastic cones you may have seen before if you spayed or neutered your dog.  Nowadays there are soft fabric versions of these which are less rigid.  They do obstruct your dog's view and can make it harder to walk around and navigate the home. Put these on especially when your dog is resting or sleeping.  
Doggie Donut Cones
These are a great solution for dogs with shorter noses and bodies. They allow full vision and mobility while offering a place to rest their chin while sleeping and relaxing.  These are usually inflatable balloons around your dog's head. 
Body Wraps
Often called post surgical body wraps, these are like spandex outfits that fit snuggly on your dog, and naturally inhibit them from getting to their skin with their teeth. Your dog will look like a superhero in spandex while the wound heals under it.
Ace Bandage wraps
Most dog owners are familiar with these and have one around the house already. These are often used on humans to immobilize an arm or ankle.  Ace wraps for dogs come with self adhering fabric and often have a bitter agent to help deter your dog from chewing it while you aren't monitoring your dog.  They fit snuggly but make sure they aren't too tight as you want plenty of circulation. Remember to take off these wraps and let you dog's hot spot get some air and dry out between treating and wrapping the wound. 
You can find all of these tools for managing dog hot spots here. 
Buy a Hotspot spray for Dogs
All Paws Essentials Topical Healing Formula is the best hotspot spray for dogs we have used. 
Considering the other options out there, our Topical Healing Formula has a more robust formula to tackle the complexities of a bad hot spot. 
This topical healing formula or "hot spot spray" is easy to apply, stops the pain immediately, kills any bacteria or fungi present, stimulates  the regrowth of new skin cells and seals the wound from reinfection.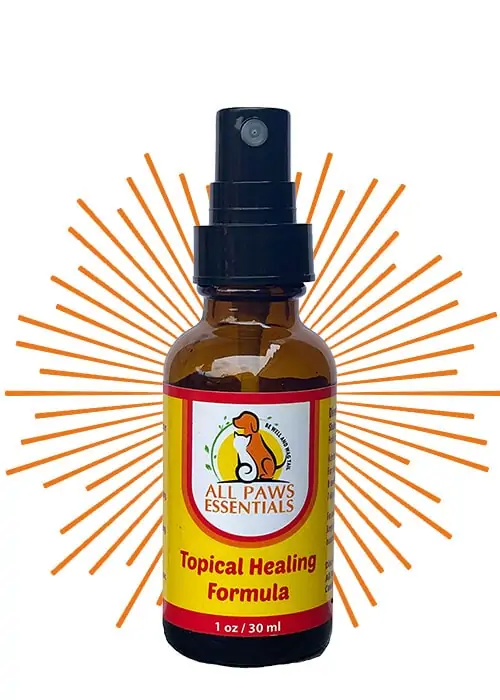 When we created this topical healing formula we included several powerful ingredients to create the best hotspot spray for dogs.                                                      Below we highlight why this formula gets rid of hot spots on dogs quickly.
Broad Spectrum CBD 
 CBD has shown to be a powerful anti-inflammatory when used on the skin.  Because your dog has more cannabinoid receptors in their skin than almost anywhere else in their body, adding 250mg of broad spectrum CBD was our first choice. We included 250mg of broad spectrum CBD to help reduce inflammation quickly. 
Active aloe is a more readily absorbed and beneficial aloe we specifically source for this formula. Active aloe is an amazing moisturizer and has its own antifungal and antibacterial properties as well. It is also has important anti-inflammatory properties.  Contrary to popular belief, pure aloe vera which we use is not toxic to dogs. The leaves of the actual plant contain mild toxins but the rest is 98% water and safe for most pets in small amounts.  So don't worry if your dog licks a little aloe. They will be fine. 
Red Grapefruit seed extract
This is one magic bullet of an ingredient.  This extract is highly antibacterial and anti-fungal.  Because of these properties it is perfect for treating hotspots. It is also able to treat antibiotic resistant bacteria and candida infections.   Red grapefruit seed extract is also high in antioxidants and vitamin C.  It further stimulates the immune response with it high levels of hesperidin, a natural ingredient in citrus peels. 
A powerful analgesic (pain reliever) that helps relieve any lingering pain from bug bites, burns, cuts, scrapes and more. We included this to alleviate the pain and reduce the need to scratch and chew at the hot spot, allowing it to heal faster. Lidocaine is also a potent anti-inflammatory.  
Frankincense Essential Oil
A natural antiseptic, moisturizer, anti-inflammatory, and antioxidant which has been used for thousands of years for its amazing healing qualities.  It is one of the safest and most useful essential 
Hemp seed oil contains therapeutic essential fatty acids, vitamins and minerals to help rejuvenate the skin quickly. 
Our MCT oil is rich in capric and caprylic acids which are both antibacterial and help coat the skin with a fatty barrier allowing the wound to heal faster. MCT oil has many other benefits too but it is well known for its antimicrobial effects. 
How Long Does it Take to Heal a Hotspot? 
While many people report it takes as long as a week or two to fully heal hotspots on dogs, we have found that our Topical Healing Formula works much faster and is the best way to heal a hotspot quickly.  We have seen hotspots on dogs improve dramatically in just 48-72 hours when our advice is taken to thoroughly clean, manage, and spray the hotspot with our Topical Healing Formula.  We advise re-treating the affected area every 3-4 hours for best results. Cannabinoids like CBD have a short lifespan on the skin and need to be replenished often.  
Now that you have learned more about what causes hot spots on dogs and what they look like, you should check over your dog periodically to look for any cuts, bumps or irritations so you can address them before your dog starts to chew or scratch at them.  Catching problems early is important to keeping the treatment period short and sweet.  
Please contact us if you have further question on treating hotspots on dogs.
Until then,
Be Well and Wag Tail!