The Therapeutic Benefits of CBD Oil for Dogs with Cushing's Disease
Cushing's Disease is becoming more common and it is a challenging diagnosis for dogs and cats. Their are many factors that can influence the onset of symptoms. Check out our suggestions and insight on the benefits of CBD oil for dogs with Cushing's disease.
The Importance of Early Detection
If your pup is drinking too much water, has a pot belly, thinning hair, or any other symptoms that might be indicators of Cushing's Disease, it's important to recognize the signs quickly and seek veterinary care. Cushing's Disease (also known as Hyperadrenocorticism) is an endocrine disorder of the adrenal glands that causes the body to produce an excessive amount of the hormone cortisol. It affects mostly older dogs, particularly those of certain breeds such as Shih Tzus, Poodles, Boxers and Terriers.
Traditional treatments for Cushing's disease include certain hormone-regulating medications or surgical removal of the tumor(s). Recently though, natural alternatives such as broad-spectrum CBD oil have emerged as viable options for pet owners looking to support their pups without the risks of using conventional drugs and surgery.
The potential benefits of CBD are worth exploring if you have a pup affected by Cushing's Disease, as it may help target tumors and repair hormonal imbalances. Additionally, while studies are ongoing on its precise effects on adrenal disorders in animals, many pet parents report relief from symptoms like excessive thirst and hunger, increased urination, thinning skin, hair loss, pot belly belly and more after introducing a consistent CBD regimen.
Benefits of CBD Oil for Dogs with Cushing's Disease
Before we dive into how to use it safely and effectively, let's take a look at what Broad Spectrum means in terms of CBD for pets. Broad spectrum CBD contains many cannabinoids found in the cannabis plant – with little to no detectable THC. The "entourage effect" created by this range of compounds is thought to create more pronounced therapeutic effects than isolated single compounds (like CBD isolate). Therefore broad spectrum products may be ideal for those looking for maximum relief from their pup's condition.
Once you've selected a broad spectrum CBD oil product formulated for animals – like our All Paws Essentials products – you need to find the right dose for your pup based on his age, weight and metabolism. Dosing will also depend on what type of product you're using; if it's an oral tincture then simply add the recommended drops to your pup's food or directly into his mouth. Always ensure your pet has plenty of access to fresh water when administering oral drops.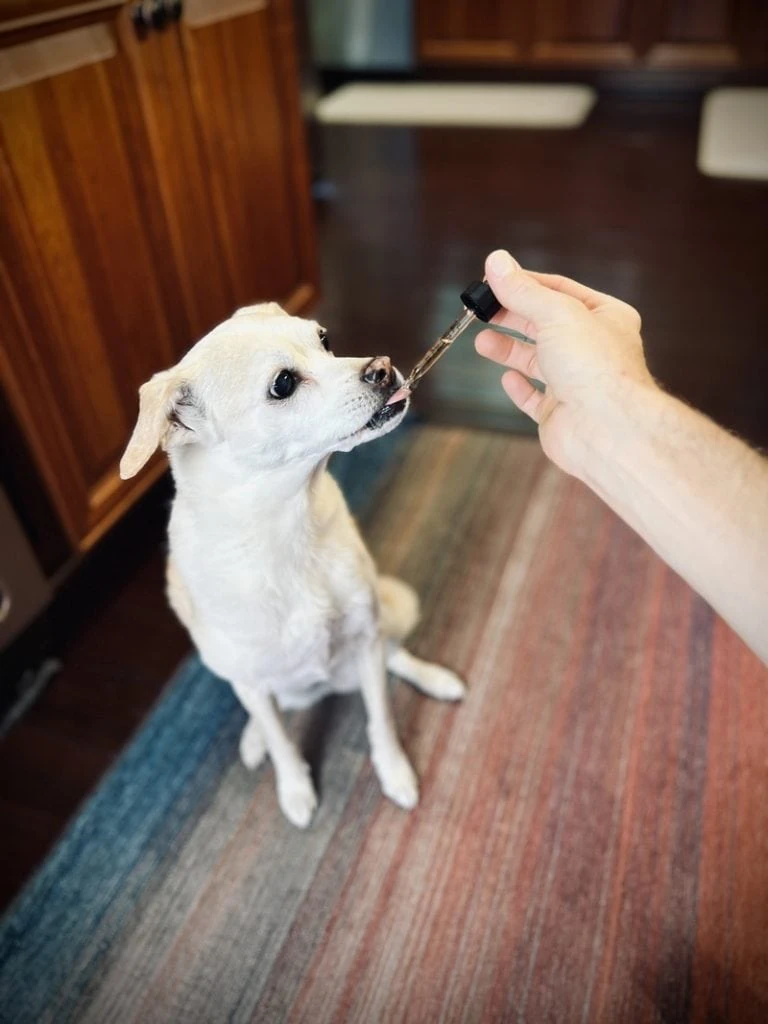 Although there hasn't been an abundance of research concerning CBD usage in animals with Cushing's Disease, studies have shown that CBD has beneficial effects in animals affected by pain , inflammation , hormones, epilepsy , anxiety, cancer , tumors, and much more. Studies conducted on mice show that they respond positively to cannabinoids like cannabidiol (CBD), which has led experts to believe that these compounds could potentially provide relief from common ailments experienced by dogs with Cushing's Disease too.
Case Study
Meet Sparky! Sparky is a 12-year-old Beagle who arrived at one of our foster friends with a variety of health problems, including Cushing's Disease. Sparky's caregiver felt overwhelmed and uncertain about the best way to assist him.
Sparky faced difficulties in moving around, experienced joint discomfort, and had several additional health concerns. During his grooming session, we discovered multiple skin nodules across his body. Given the encouraging results we've observed with CBD oil in treating dogs with Addison's Disease and other ailments, we decided to use our Trinity Blend 500mg formula twice a day. We also used our Topical Healing Formula to treat his lumps acutely. As a result, Sparky has shown remarkable improvement; he's energetic, and jovial, and appears more youthful than before. His lumps have gotten smaller and while he still has issues, his quality of life has improved.
This case study shows how powerful natural supplements such as full spectrum CBD can be – especially when combined with other therapies such as diet changes exercise & massage therapy! Of course, no two pups are alike so always work closely with your veterinarian when introducing new supplements into your dog's health regime  
Research Supports the use of CBD for Cushing's Disease
In a collaborative investigation led by various research departments at Vanderbilt University, including the A.B. Hancock Jr. Memorial Laboratory for Cancer Research and the Vanderbilt Institute of Chemical Biology, scientists determined that CBD shows considerable potential for treating cancer and tumors.
Similarly, another contemporary study revealed that CBD effectively slowed the growth of cancer cells in mice and also hindered the formation of new tumors. This research posited that CBD could serve as a potent therapeutic solution for treating tumors in both animals and humans.
Additionally, new research carried out by the School of Medicine's Department of Physiology at Southern Illinois University discovered that CBD could significantly impact hormone release, including that of cortisol.
If you have a pet with Cushing's disease and you would like to try our products, we offer a 30 day money back guarantee and will happily answer any questions you may have prior to purchase.
As always, Be well and Wag Tail.